Mary M. Huebner, DPT, OCS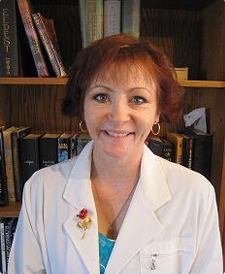 Education
1986 Bachelor of Science, Physical Therapy,
University of Oklahoma
1998 Master of Health Science, Orthopedic Physical Therapy,
University of Indianapolis
2005 Doctorate, Physical Therapy,
A.T. Still University, Arizona School of Health Sciences
Board Certification
Orthopedic Clinical Specialist since 1999
Sub-Specialty
Shoulder and Upper Body
Temporomandibular Dysfunction
Vestibular Dysfunction
Information
Dr. Mary Huebner has been a licensed physical therapist since 1986. As part of a military family for 20 years, she has been professionally active in a large variety of clinical settings, in a diverse range of capacities and in many states. During this time, she served an active duty tour as a physical therapist in the United States Air Force and worked as a volunteer physical therapist for the American Red Cross. Dr. Huebner's experience includes being manager/director of several physical therapy departments, including her active duty time in the military.
Dr. Huebner joined OSPTA in 2001. She is OSPTA's Center Coordinator for Clinical Education and is an adjunct faculty member for Virginia Commonwealth University/Medical College of Virginia. She has remained active in student training, research and professional writing.
I treat patients exactly how I would want my family to be treated. My family is everything to me!
My approach formulated a year into practice in 1987 when in a small Florida hospital far from my South Dakota home. As I would see new patients, they began reminding me of family that I was missing – Dad, Mom, brothers, sisters, Grandpa, and Grandma. Today, I have a husband and children and this remains my philosophy and keeps me inspired!
"I received exceptional treatment and will highly recommend OSPTA to everyone who needs physical therapy."

"My treatment was very helpful. My overall physical condition improved tremendously. Thanks very much."

"Everyone was so sweet and helped me so much. I hope to never need to come back. But, if I do get injured again, I will definitely be coming back here."

"Great experience – I am pleased with the results and I feel really positive about long-term."

Using a scale of 1-5.."If a choice of #10 were available, I would have used the 10. This is a great place. Thank you all!!!!"

"This office was originally recommended to my family by a doctor in Richmond as having a good reputation. We have been very satisfied with treatment. Everyone is very nice and knowledgeable."
Symptoms and Conditions
Place a symptom in the box to discover how a Doctor of Physical Therapy can help you.