Bryan T. Leake, DPT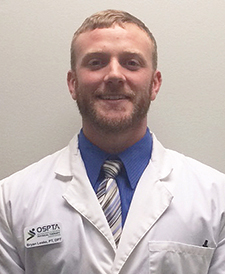 Education
2012 Associate of Science,
Germanna Community College
2014 Bachelor of Science, Kinesiology – Focus in Exercise Science,
James Madison University
2018 Doctorate, Physical Therapy,
Radford University
Licensure — Virginia
SPECIAL INTERESTS
Vestibular disorders
Sports-related concussion recovery
Orthopedic manual physical therapy
Information
Dr. Bryan T. Leake is new to OSPTA.  He is a recent graduate, and completed diverse clinical affiliations in a variety of settings.  He infuses new energy into the practice and is dedicated to absorb a wealth of information from the vast experience of the existing doctors of physical therapy at OSPTA.
Dr. Leake is one of our own, a native of the Fredericksburg area. He is an outdoorsman, enjoying hunting/fishing, hiking and snowboarding. Dr. Leake has been an athlete since childhood: football, wrestling, lacrosse, soccer, basketball and boxing.  Presently, he is involved in basketball, racquetball, Olympic lifting, and mixed martial arts. To round out his hobbies, he is a guitarist/musician.
Symptoms and Conditions
Place a symptom in the box to discover how a Doctor of Physical Therapy can help you.